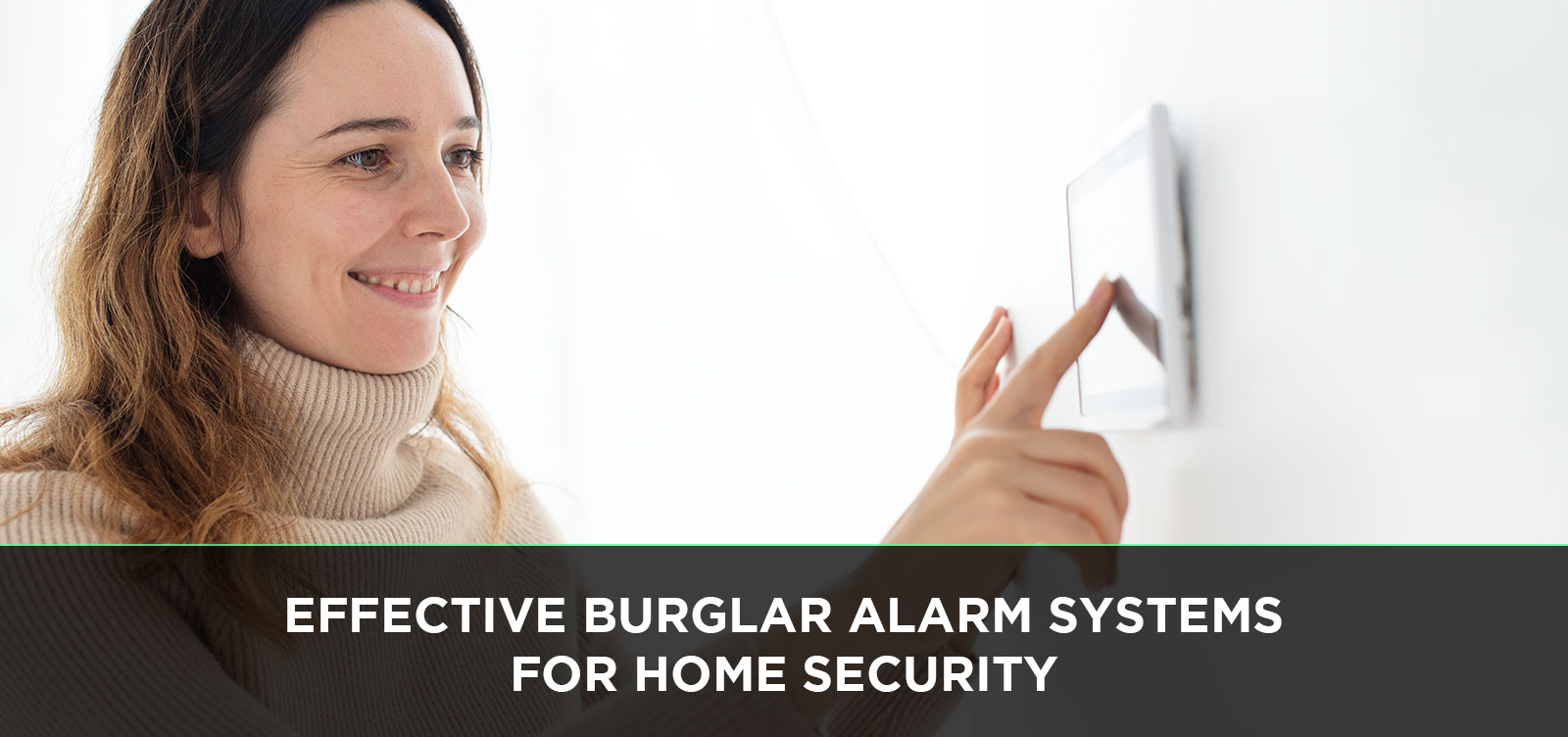 As the world continues to develop at a rapid pace, the security landscape is constantly evolving. Homeowners have been seeking the best ways to secure their homes and protect their loved ones from burglary and home invasion. One of the most effective ways to achieve home security is by installing a reliable burglar alarm system. With the ever-increasing number of alarm systems on the market, it can be challenging to determine which one is the best fit for your home. However, in this blog post, we will delve into the features of effective burglar alarm systems and guide you toward making an informed decision.
Why Home Security is Important?

Home security system is essential to ensure the safety and protection of both your family and valuable belongings. Statistics reveal that every 13 seconds, a home burglary takes place resulting in almost 6,000 burglaries per day. Investing in a home security system can protect your property and prevent break-ins. Homes without a security system are 300% more vulnerable to burglary compared to ones that have one. Additionally, modern security systems allow remote access to your home, which ensures that your loved ones are safe and sound. They can also provide fire and gas alerts, which can prevent unwanted incidents and outcomes. Security systems can even keep tabs on kids by providing smart home products like video doorbells, smart locks, and thermostats. Furthermore, having a security system can reduce your insurance payments by up to 20%. Thus, having a home security system not only protects your family and possessions but also contributes to creating a safer neighborhood for everyone.
Types of Burglar Alarm Systems

1. Wired Burglar Alarms

A wired burglar alarm is hard-wired throughout the home and connected to the mains. It is an affordable option if your home is already wired for an alarm. It is also equipped with a tamper circuit that highlights any accidental damage to wires.
2. Wireless Burglar Alarms

Wireless burglar alarms are battery-operated and transmit signals using radio frequency. They are portable and can be taken with you when you move house. Additionally, they are more expensive to operate than wired systems.
3. Audible Burglar Alarms

Audible burglar alarms are equipped with a siren or bell that sounds when activated. However, this type of alarm only draws attention to the building and is not monitored by a security company. It is therefore more suited to low-risk homes.
4. Monitored Burglar Alarms

A monitored burglar alarm sends an alert to an external security company when activated. They will then contact you or your keyholder to inform you that your house alarm has been activated. It is a more expensive option but provides a higher level of protection, particularly for major cities or high-crime areas.
5. Unmonitored Burglar Alarms

An unmonitored burglar alarm system is triggered when activated but does not notify you or a security company. These are cheaper to install, and some models have a feature that sends a notification to your mobile device.
It is essential that your burglar alarm complies with European Standard EN 50131 and is installed by a company licensed by the Private Security Authority (PSA) - Ireland's licensing and regulating body for the private security industry.
Components of a Burglar Alarm System

1. Alarm Control Panel - The central control unit of the burglar alarm system, where all components are wired or wirelessly connected to.
2. Alarm Keypad - The interface for the system located near the main entrance or at key checkpoints, allowing users to arm and disarm the system and communicate with the security monitoring station.
3. Door and Window Contacts - Magnetic sensors that connect from the door to the jamb or the window to the wall. When the sensor contact is broken, such as by opening a door or window, the alarm is triggered.
4. Glass Break Detectors - Sound detectors that listen for the precise frequency of breaking glass. These sensors can trigger the alarm in case of entry even if the window contact sensor is bypassed.
5. Motion Detectors - Indoor motion detectors include passive infrared technology that only picks up the displacement of body heat. Outdoor motion detectors use passive infrared and microwave technology to catch intruders without getting false alarms from small animals.
6. System Interruption Sensors - These sensors protect the system from tampering and will trigger an alert if any part of the system offline loses power or fails to respond.
7. Silent Burglar Alarm - Offers the authorities a better chance of apprehending an intruder without alerting the whole neighborhood.
8. Alarm Monitoring Service - A subscription-based service that provides 24/7 access to a support center that would respond to any alarms or alerts.
9. Yard Signs and Window Stickers - Displaying signs prominently will deter would-be burglars from entering a home.
10. Smoke Detectors and Carbon Monoxide Detectors - Essential components for alerting the occupants of danger and preventing harm from smoke or poisonous gas.
Choosing the Right Burglar Alarm System
1. Determine Your Home Security Needs: Before choosing a burglar alarm system, it's important to identify your home security needs. Do you live in a high-crime area? Do you travel frequently? Do you have valuable possessions to protect? Answering these questions will help you make an informed decision when selecting a burglar alarm system that meets your specific needs.
2. Consider Professional Installation: Professional installation offers the advantage of having an experienced security expert install the system in locations that maximize protection. Many security providers offer free installation, and it may be worth the investment to ensure the system's proper setup.
3. Evaluate DIY Installation Options: If you have a tight budget, installing the system yourself can save you money. Some DIY security systems come pre-programmed, requiring only a basic setup, while others offer peel-and-stick adhesive equipment, meaning you won't have to drill holes to install sensors.
4. Choose Between Professional Monitoring or DIY Monitoring: Professional monitoring involves an alarm center dispatcher responding to triggered alarms 24/7 year-round. DIY monitoring requires the homeowner to monitor their system and call emergency services when necessary. The choice depends on your budget and your level of comfort with self-monitoring.
5. Check for a Warranty: Look for a warranty attached to the system you choose. A manufacturer's warranty covers defects in equipment for a certain period. Make sure to check the specifics of any warranty, including terms, length, and what it covers and excludes.
6. Explore Smart Home Integration: If you're looking for a system that doubles as a smart home hub, opt for a system with smart home integration features. Many home security systems offer the ability to integrate compatible smoke/carbon monoxide detectors, water and temperature sensors, thermostats, and lighting.
7. Examine Total Cost: The cost of a home security system comprises equipment, installation, activation, monitoring, and any hidden fees. Decide on your budget and prioritize your security needs to find the best-suited system for your needs.
8. Read Reviews and Compare Systems: Check consumer reviews and ratings before making a decision. Consult a reliable source, such as Consumer Reports or This Old House Reviews, to compare different systems on the market and go for the one meeting your needs.
9. Evaluate Your Contract Terms: Many home security systems require a long-term contract of up to three years. Consider opting for short-term contracts or no-contract options if you plan on moving or want more flexibility.
10. Compare Multiple Providers: Compare providers before deciding which alarm system to choose. Get quotes and compare different systems to make an informed decision. Narrow down providers based on the offered features and pricing to find the ideal alarm system for your house.
Conclusion
Investing in an effective burglar alarm system is a wise decision to protect your home and loved ones from potential break-ins. Whether you opt for a wired or wireless system, ensure that it meets your specific security needs. Consider factors such as reliability, ease of use, monitoring options, and your budget before making a final decision.
Call us at (877) 470-7879 experts can help you customize the perfect solution.