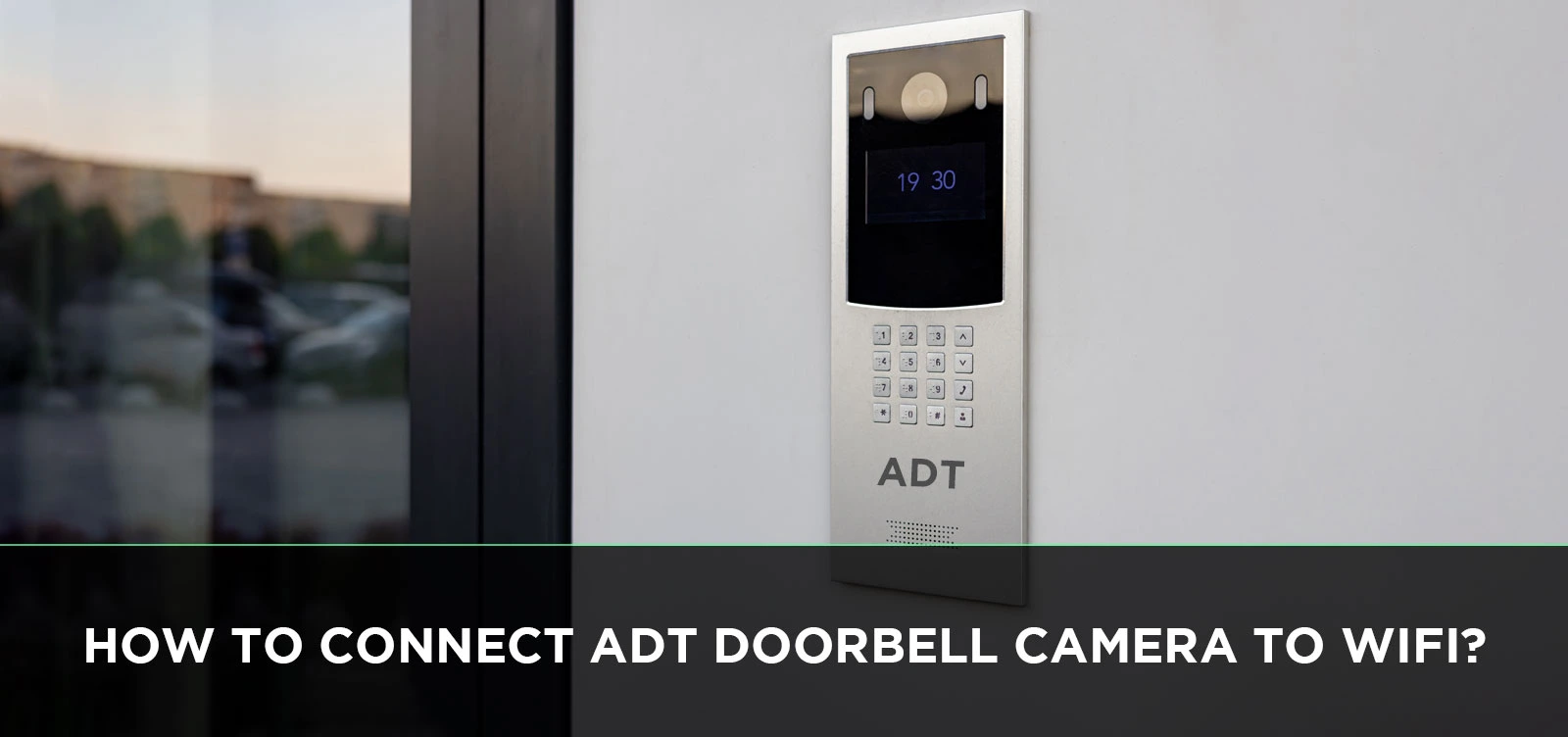 Are you eager to enhance the security of your home with a smart doorbell camera? ADT offers a reliable and cutting-edge solution with its doorbell camera. However, you might be wondering, "How to connect ADT doorbell camera to WiFi?" Well, you've come to the right place. In this article, we will walk you through a detailed and straightforward process to set up your ADT doorbell camera with WiFi. Whether you're a tech-savvy individual or a beginner, we've got you covered!
8 Steps to Connect ADT Doorbell Camera to WiFi?
Let's delve into the step-by-step guide on how to connect your ADT doorbell camera to WiFi. Follow these instructions carefully, and you'll have your camera up and running in no time!
Step 1: Gather the Necessary Equipment
Before you begin the setup process, make sure you have all the required equipment at hand. You'll need:

• ADT Doorbell Camera
• Smartphone or Tablet with the ADT App Installed
• Stable WiFi Connection
• Screwdriver and Mounting Hardware (if necessary)
Step 2: Power Up the Doorbell Camera
Start by powering up your ADT doorbell camera. You can do this by connecting it to a power source, either through batteries or wired power. If you're using batteries, ensure they are fully charged. Once powered up, the camera will initiate the setup process.
Step 3: Install the ADT App
To proceed with the setup, you need to have the ADT app installed on your smartphone or tablet. Head over to the app store on your device, search for "ADT," and install the official app.
Step 4: Create or Log in to Your ADT Account
If you already have an ADT account, log in using your credentials. If not, follow the on-screen instructions to create a new account. An ADT account is necessary to link your doorbell camera and access its features remotely.
Step 5: Connect the Camera to the WiFi
Using the ADT app, follow the prompts to connect your doorbell camera to your home WiFi network. Make sure to select the correct network and enter the password accurately. The app will guide you through this process seamlessly.
Step 6: Position and Mount the Camera
Choose an optimal location to install your ADT doorbell camera. Ensure it provides a clear view of the area you want to monitor. Use the mounting hardware and screwdriver to securely fix the camera in place.
Step 7: Test the Connection
After the setup is complete, perform a quick test to ensure the camera is correctly connected to WiFi and provides a clear live feed. You can do this by accessing the camera's feed through the ADT app on your smartphone or tablet.
Step 8: Set Up Motion Detection and Notifications
Customize your camera settings by enabling motion detection and notifications. This feature allows you to receive alerts whenever motion is detected near your doorbell camera.
Best Tips for Setup ADT Doorbell Camera to WiFi
Here are some valuable tips to ensure a smooth and hassle-free setup process:
• Strong WiFi Signal: Make sure your WiFi signal is strong and stable near the camera's location to ensure reliable connectivity.
• Regular Maintenance: Regularly check and clean the camera lens to ensure clear video quality.
• Firmware Updates: Keep your ADT doorbell camera firmware up to date to access the latest features and security patches.
• Password Security: Set a strong and unique password for your ADT account to prevent unauthorized access.
• Network Security: Ensure your home WiFi network is password-protected and uses the latest encryption protocols.
• Professional Installation: If you're unsure about the setup process, consider opting for professional installation services provided by ADT.
FAQs - Connect ADT Doorbell Camera to WiFi
1. Can I Connect My ADT Doorbell Camera to Multiple Devices?

Yes, you can connect your ADT doorbell camera to multiple devices. Once you've set up the camera and logged in to your ADT account, you can access the camera feed from multiple smartphones or tablets using the ADT app.
2. Does the ADT Doorbell Camera Support Two-Way Audio?

Yes, the ADT doorbell camera comes equipped with two-way audio. This feature allows you to communicate with visitors or delivery personnel at your doorstep using the ADT app.
3. Can I View the Camera Feed Remotely?

Absolutely! With the ADT app, you can access the camera feed and view live footage remotely from anywhere in the world, as long as you have an internet connection.
4. What Happens If the Camera Loses WiFi Connection?

If the camera loses its WiFi connection, it will automatically attempt to reconnect. However, if the disconnection persists, you may need to check your WiFi signal strength or contact ADT support for further assistance.
5. Can I Record and Save Video Clips?
Yes, the ADT doorbell camera offers cloud storage for recorded video clips. You can save and review these clips at any time using your ADT account.
6. Is the ADT Doorbell Camera Weatherproof?

Yes, the ADT doorbell camera is designed to withstand various weather conditions. It is weatherproof and built to endure rain, snow, and extreme temperatures.
Conclusion
Congratulations! You've successfully learned how to connect your ADT doorbell camera to WiFi. By following our detailed guide and tips, you can ensure a smooth setup process and enjoy the benefits of enhanced home security. Remember to keep your camera's firmware up to date and maintain a strong WiFi connection for optimal performance. With the ADT app, you can conveniently monitor your home from anywhere and receive notifications of any activity near your door. Stay secure, and enjoy peace of mind with ADT's smart doorbell camera!
Call us now at (877) 470-7879 to schedule your installation and enjoy peace of mind with real-time alerts and remote access to your doorbell camera. Don't wait - secure your home and loved ones with ADT!"