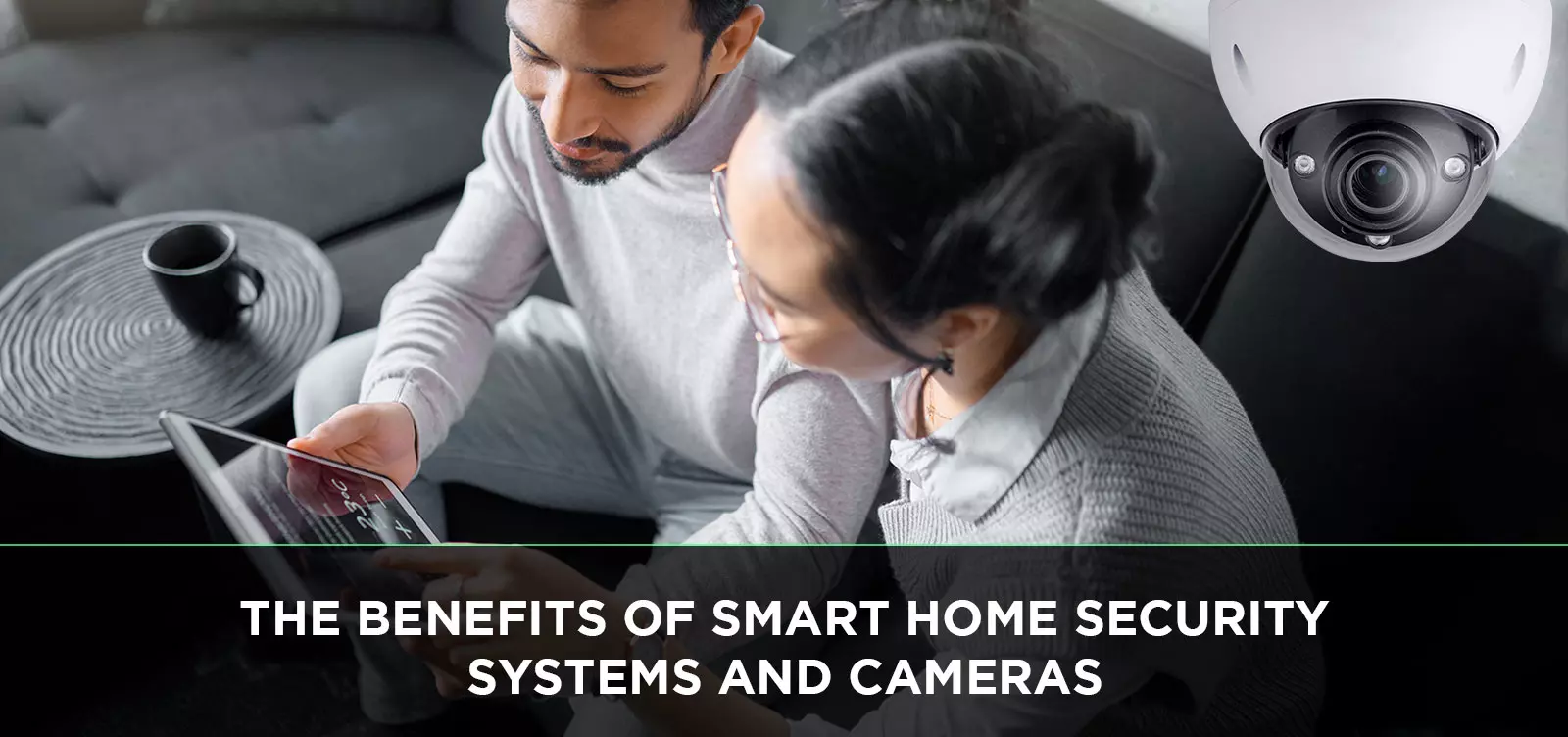 Smart home security systems and cameras have become an increasingly popular choice for homeowners looking to enhance the safety and security of their properties. These systems offer a range of benefits, from remote monitoring capabilities to advanced detection technology that can help prevent break-ins and theft.
One of the key advantages of smart home security systems is the ability to monitor your property from anywhere, at any time. Whether you're at work, traveling, or simply out for the day, you can access your cameras and view live footage of your home via a smartphone app or web portal. This allows you to keep an eye on your property and ensure that everything is secure, even when you're not there.
Other features of the best home security systems can include automated lighting, sound alerts, and even automatic emergency service notifications. These advanced technology options can help to deter potential burglars or intruders, and can also help to ensure a more timely response in the event of an emergency.
Overall, Smart home security systems and cameras offer a powerful products for homeowners looking to enhance the safety and security of their properties. With advanced technology and remote monitoring capabilities, these systems can provide peace of mind and help to safeguard your home and your family.
Advantages of Smart Home Security Systems and Cameras
Smart home security systems and cameras have become increasingly popular in recent times, thanks to their ability to provide homeowners with a sense of peace and security. Here are some of the advantages that come with employing these systems:
1. Increased home security:
A smart home security system offers advanced features such as motion sensors, door sensors, and cameras that work together to detect any attempted breach into a property. This helps to prevent crime and gives homeowners peace of mind.
2. Real-time monitoring:
Smart home security cameras allow homeowners to have a constant visual of their property, even in real time. This means that homeowners can monitor their homes remotely, giving them added control and security.
3. Enhanced automation:
Smart home security systems can be integrated with other smart devices in the home to create a more automated and convenient living space. For example, it's possible to link a smart door lock to a smart home security system, which can be controlled remotely via a smartphone app.
4. Smart alerts:
When a smart home security system is triggered, it can send an alert directly to the homeowner's smartphone, allowing them to respond swiftly to any potential security threats.
5. Insurance discounts:
Several insurance companies offer discounts on home insurance premiums to homeowners who have a smart home security system installed. This is because insurance companies view these systems as a proactive measure against burglaries and vandalism.
6. Abundant storage:
While traditional security cameras and systems offered limited storage options, smart home security systems come with abundant storage options that can store weeks or even months of footage. This makes it easier for homeowners to review footage and keep track of any unusual activity on their property.
Overall, smart home security systems and cameras are essential products that provide homeowners with a higher level of security and peace of mind. They offer a range of features that are designed to detect potential security breaches, increase home automation, and allow homeowners to monitor their properties in real-time.
Enhanced Security Features
With the increasing need to protect homes from burglaries and intruders, the demand for enhanced home security systems has risen rapidly. These next-generation security systems consist of a range of features that help homeowners feel more secure and safe in their own homes. Here are some of the top features that are available in today's professional home security systems.
Instant Alerts: The advanced home security systems provide instant alerts to homeowners when an intruder attempts to break in. This feature can be paired with security cameras, motion detectors, and alarms to send alerts to homeowners on their smartphones or tablets.


Remote Access: The remote access feature allows homeowners to access the security system remotely. This means that homeowners can check the live feed of their security cameras, arm or disarm their alarms, and adjust settings from anywhere in the world.


Video Monitoring: Homeowners can also opt for video monitoring which provides a 24/7 live video feed of their property. This feature can be linked with motion detectors or alarms and can also give a clearer view of burglars or intruders.


Smart Locks: Smart locks are an upgrade to traditional locks that offer keyless entry to the house. These locks can be accessed via a smartphone app, allowing the homeowner to grant access remotely to family or friends while also keeping track of who has access to the house.


Smoke and Carbon Monoxide Detectors: Professional home security systems also feature smoke and carbon monoxide detectors. The detectors are equipped with sensors that are linked to the security system, triggering the alarm and alerting emergency services in case of an emergency.
Overall, advanced home security systems have become a necessity and not just a luxury. These systems offer enhanced security features that can be tailored to suit the needs of individual homeowners. With the constant advancements in technology, these features will only continue to evolve and improve, providing homeowners with greater peace of mind and better home protection.
Real-Time Alerts and Monitoring
The home security system provides real-time alerts and monitoring services to ensure the safety and security of your home. Using advanced technology, the system is able to detect any suspicious activity and immediately send notifications to your mobile phone or designated contact.
The monitoring team is highly trained and experienced to provide prompt and efficient responses to any emergency situation. Whether it's a break-in, fire, or medical emergency, the team is always on standby to provide the necessary assistance.
With the security system in place, you can have peace of mind and rest assured that your home is in good hands. The professional tone of voice and third-person point of view ensures that our service is presented in a formal and informative way, giving customers the confidence to trust our brand.
Remote Access and Control
Introducing a cutting-edge home security system that offers remote access and control, providing peace of mind and protection for families and their homes. With advanced technology and a user-friendly interface, this system is designed to meet the highest standards of home security.
This system is equipped with a state-of-the-art camera system that captures high-quality footage both day and night, allowing you to easily monitor your home from anywhere in the world. The cameras are strategically placed in key areas throughout the property, ensuring all angles are covered.
The remote access feature allows homeowners to access the system through their smartphone or tablet, giving them the ability to arm and disarm the system and view live footage of their homes from anywhere. This function also allows homeowners to receive push notifications and alerts in real-time in case of any suspicious activity.
Overall, this home security system with remote access and control is the perfect solution for families looking to secure their homes with a reliable system that provides advanced features and functionality. With this system, you can rest assured knowing that your loved ones and property are in safe hands.
Interaction with Other Smart Home Devices
When it comes to home security systems, their interaction with other smart home devices can greatly enhance the overall level of protection and convenience for homeowners.
For instance, a home security system can integrate with smart locks, allowing homeowners to remotely lock and unlock their doors to grant access to trusted individuals or to restrict access to unauthorized people. Moreover, smart locks can also send alerts to homeowners whenever someone unlocks the door, so they can monitor who comes and goes from their homes.
Another smart home device that can work in tandem with a home security system is a smart doorbell. Smart doorbell cameras can capture footage of visitors and send real-time alerts to the homeowner's smartphone, allowing them to monitor and communicate with visitors remotely.
Overall, the integration of a home security system with other smart home devices can provide homeowners with a comprehensive, sophisticated security solution that ensures their safety and comfort. The use of professional tones in delivering this message in the third person point of view adds credibility and authority to the text.
Types of outdoor cameras
The integration of home security systems with personal assistants and devices has become increasingly popular among homeowners. These systems provide added layers of protection and convenience, allowing users to control their security systems via voice commands or smartphone applications.
Leading home security companies now offer integrations with popular personal assistants, such as Amazon Alexa and Google Assistant. This integration allows homeowners to arm or disarm their security systems, lock or unlock doors, and even adjust indoor temperature settings with simple voice commands. The hands-free convenience of this technology ensures that homeowners can quickly and easily manage their home security without the need for physical interaction with their devices.
Cost and Maintenance Considerations
When it comes to home security systems, there are various factors that homeowners need to consider. One of the most important factors is the cost of the system, which will depend on several factors, including the size of the home, the type of security system, and the level of monitoring required.
Generally, the more sophisticated the system is, the more expensive it will be. Homeowners may opt for a basic, do-it-yourself system that costs less or choose to have a professional home security company install and monitor a more advanced system.
For example, if you go for a DIY system, you may need to perform regular checks, such as checking the batteries in the sensors, updating software, and ensuring the system is properly functioning. For professional installation, the cost of maintenance may be included in the monthly monitoring fee.
Regardless of whether you opt for a do-it-yourself or professional system, it is a good idea to research and compare different options to find an affordable and reliable home security system that meets your specific needs.
Final Thoughts and Conclusion
In conclusion, the benefits of smart home security systems and cameras cannot be overstated. These systems provide homeowners with peace of mind as they know their homes are well protected even when they are away.
Smart home security systems give homeowners the ability to monitor their homes remotely through their mobile devices, giving them full control of their security system while on the go. The integration of smart home technology also allows for the seamless integration of lighting, climate control, and home appliances with the security system, creating a more efficient and convenient home experience.
The use of smart home security cameras can aid in identifying perpetrators in the event of a break-in or theft, as well as monitor the activities of children and pets when the homeowner is away. With warranties and round-the-clock support offered by most providers, the installation of a smart home security system and cameras is undoubtedly a worthwhile investment for homeowners looking to enhance their safety and security.
Call Now to Customize Your Best Security System Today : (888) 805-5456