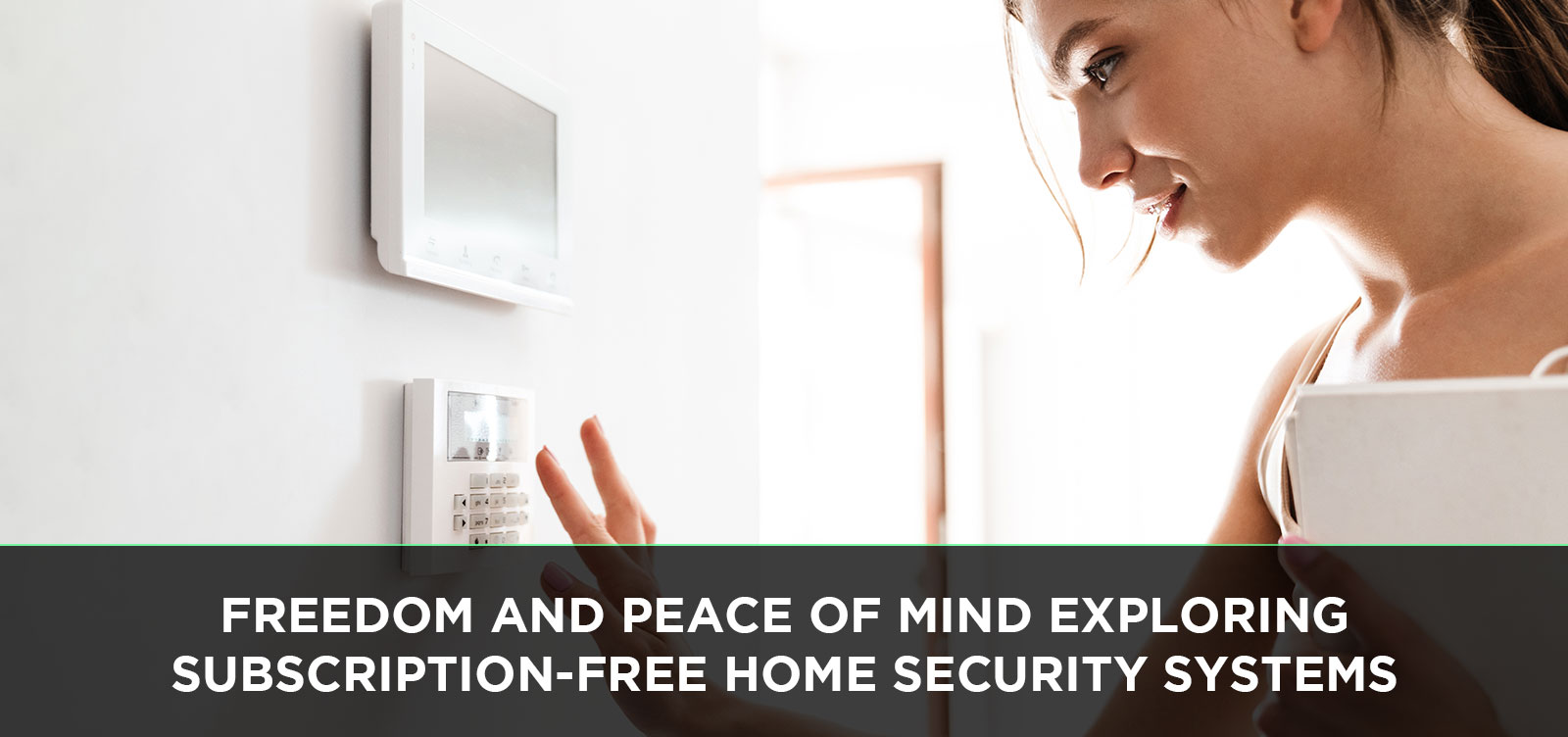 When it comes to securing one's home, there are numerous options available on the market. However, subscription-based home security systems can be quite expensive, and their services may not always be necessary. This has led to the rise of subscription-free home security systems. These systems not only provide freedom from monthly subscription fees but also give peace of mind to homeowners. They come in various forms, ranging from traditional security cameras to smart doorbells and motion sensors. Many of these systems are equipped with advanced features such as facial recognition, night vision, and real-time alerts, making them quite reliable. What's more, most of these subscription-free systems can be easily installed without professional assistance, meaning that homeowners can cut down on installation fees. In conclusion, subscription-free home security systems represent an affordable and efficient way to secure your home without the burden of monthly fees.
Understanding Subscription-Free Home Security Systems

Subscription-free home security systems have become increasingly popular in recent years. These systems offer an attractive alternative to traditional home security systems that often require hefty monthly fees and long-term contracts. With subscription-free systems, users have the flexibility and freedom to self-monitor their homes. This means that they are responsible for monitoring their security system and responding to any alerts or notifications. While this approach requires more effort on the user's part, it also translates to significant savings over time. Moreover, subscription-free systems are designed to provide reliable protection, with high-quality equipment that is built to last. Some of the best subscription-free home security systems on the market include SimpliSafe, Abode, Ring Alarm, and Arlo. These systems come with comprehensive features, including security sensors, safety hazard detectors, indoor and outdoor cameras, and other essential components. Users also have the option to upgrade to professional monitoring, with monthly fees that are surprisingly low-cost and efficient. Overall, subscription-free home security systems offer an affordable and reliable way to safeguard homes, without the burdensome costs of monthly fees and long-term contracts.
Exploring Wireless Camera Options

Wireless home security cameras have become increasingly popular due to their easy installation process and various advanced features. The Lorex wireless camera system is a great option that does not require a mandatory monthly fee, allowing for continuous footage without missing a beat. For those wanting smart home integration, Lorex is limited in that aspect, but some cameras can be connected with Alexa and Google Assistant. Another type of wireless camera is the outdoor video doorbell camera, which replaces the traditional doorbell with an added camera for motion detection and recording. It is typically quick and easy to install for seasoned DIYers, and some models even feature two-way audio. For indoor surveillance, indoor cameras are available in both wired and wireless options and can be plug-in devices. Regardless of the type of wireless security camera chosen, it is recommended to have at least one camera at the main entrance of the home and additional cameras installed by the main hallways or on the ground floor entrances for added security. Overall, the best wireless security camera options will depend on individual preferences and the level of surveillance needed for a specific home.
Key Features to Consider to choose Home Security Systems
When choosing a home security system, it is essential to consider various key features. Firstly, consider the installation method, whether you prefer a professional installation or a DIY system. Professional installation ensures that the system is installed correctly and maximizes protection, although it can be expensive. On the other hand, DIY installation is easy, cost-efficient, and you won't have to work around someone else's schedule. Secondly, the cost of the equipment, installation fees, activation fees, monitoring costs, and hidden fees should be weighed against your budget. Don't settle for the cheapest package if it doesn't fulfill your priorities. Thirdly, consider the contract requirements, as some providers require a long-term commitment, while others offer short-term contracts or no contracts at all. DIY monitoring or professional monitoring is another key consideration. Professional monitoring provides round-the-clock protection, but it comes with a monthly fee, while DIY monitoring requires you to notify the authorities when needed. Lastly, depending on your needs, choose a home security system that offers smart home automation features like integrating with third-party products. Overall, a thorough evaluation of these key features will enable you to choose a home security system that meets your needs and budget.
Installation and Setup Process for Home Security Systems
Installing and setting up a home security system can help provide peace of mind and protect against potential threats. To save money, one can choose to install the system themselves. A complete system with burglary, fire, freeze, and water sensors can be installed without fishing a single wire within approximately two hours. Plan to spend around $500 to $800 to protect an average-size home. Before buying an alarm system, it is important to reinforce vulnerable doors and windows by adding better locks and protecting all openable windows and doors with sensors. Skimping on door and window sensors is not recommended, as burglars tend to choose the one window or door left unprotected. Large windows that do not open can be protected with glass break sensors, but they are not a substitute for an individual sensor on every openable window. Motion sensors provide backup protection, but they only work when the homeowner is out of the house and can generate false alarms, especially if one has pets. Finally, the battery circuit may be connected by purchasing suitable types of rechargeable batteries, running both black and red wires from the sounder location to the battery location, connecting the red wire to the positive terminal of one cell, and the black wire to the negative terminal of the other cell. Connecting the negative of the first cell and the positive of the other should be left until the last to avoid quickly discharging the batteries.
Additional Security Measures for Home Security Systems
Additional security measures for home security systems can greatly enhance the level of protection provided for households. It is important for homeowners to understand that burglars strike every 30 seconds and that home security should be a top priority. Installing a security system, whether it is basic or comes with professional monitoring, is recommended. Homeowners should evaluate the needs of their homes and consider the likely risks before selecting a system. It is also vital to ensure that all exterior doors are secure with strong door frames, protected hinges, and effective locks. Windows are a common entry point for criminals, and it is important to check latches and consider adding key-operated levers for extra security. Lighting can be an effective deterrent, and motion-activated lights around the front and back yards can scare off intruders. Homeowners should also ensure that their Wi-Fi network is secure and avoid leaving the garage doors open, making sure they are locked at all times. Finally, investing in security cameras can provide an extra layer of security, potentially deterring burglars and helping to identify them if they do break in. In conclusion, by implementing these additional security measures, homeowners can help to safeguard their homes and ensure a higher level of protection for themselves and their families.
Conclusion
Subscription-free home security systems offer homeowners the freedom and peace of mind they desire without the burden of long-term contracts and expensive installation fees. Traditional security systems may offer 24/7 monitoring, but they come at a high cost and often require contracts. However, DIY smart security systems are affordable, easy to install, and can be monitored at any time. Advanced technology allows homeowners the ability to customize their system by adding sensors that detect smoke, carbon monoxide, and extreme temperatures. Additionally, cameras can enhance the effectiveness of the system, and most plans include video storage for recordings. Some cities may require permits for security systems that connect to emergency services to cut down on false alarms. In conclusion, subscription-free home security systems give homeowners the freedom to monitor their homes without being locked into a contract and provide the peace of mind they need to feel safe and secure.
Call us at (877) 470-7879 experts can help you customize the perfect solution.