Intercom systems are communication devices commonly used in various settings, from homes to commercial buildings and institutions. They enable individuals to communicate with each other, regardless of their location within the premises. These systems provide convenience, security, and efficiency in communication. Intercom systems are essential communication tools that enable effective and secure communication within a premises. They offer a range of features to cater to different needs, making them a versatile solution for various settings.
Upgrade Your Communication and Security with Intercom Systems
HsforMe is a prominent security company and intercom installation provider. Our expertise lies in installing, upgrading, replacing, repairing, and maintaining audio/video intercom systems from reputable brands such as ADT, Alder & Vivint and more.
Our intercom solutions are suitable for various settings, such as apartment buildings, offices, schools, hospitals, and more. These top-notch intercom systems offer a reliable and effective means of enhancing security and accurately identifying visitors at your facility. Whether you're upgrading, replacing, or installing a brand new system, our solutions are the way to go.
We Offering a wide range of intercom systems solution:
Audio/Video Intercom Systems
Wireless (IP Based) or Wired Intercom Systems
Telephone Entry Systems
Doorbell Buzzer Systems
Room to Room Intercom
Office Intercom
Broadcast Intercom
We Working with Following Brands
Benefits of Intercom Systems
1. Improved Communication:
- Intercom systems facilitate effective and convenient communication between different areas or rooms within a building. They allow quick and clear conversations, eliminating the need for shouting or running to relay messages.
2. Enhanced Security:
- One of the primary benefits of intercom systems is their ability to improve security. They act as a surveillance tool, allowing visual identification of visitors before granting access. In residential buildings, residents can screen visitors and determine their legitimacy, enhancing overall safety.
3. Convenient Access Control:
- Intercom systems can be integrated with access control mechanisms such as keycards, passcodes, or biometrics.
4. Emergency Communication:
- Intercom systems play a crucial role in emergency situations by providing immediate communication. In the event of a fire, medical emergency, or security breach, intercoms allow rapid communication with relevant authorities.
5. Visitor Management:
- Intercom systems simplify visitor management processes, particularly in large buildings or high-traffic areas. Visitors can announce their arrival at an entrance, allowing individuals inside to grant or deny access.
6. Cost-effective Solution:
- Intercom systems offer a cost-effective solution for communication and security needs.
- Compared to alternatives like hiring additional personnel or implementing complex security systems, intercoms are relatively affordable. The flexibility of intercom systems allows for easy scalability, accommodating the needs of both small and large buildings.
The Popular Choice: Video Intercom Systems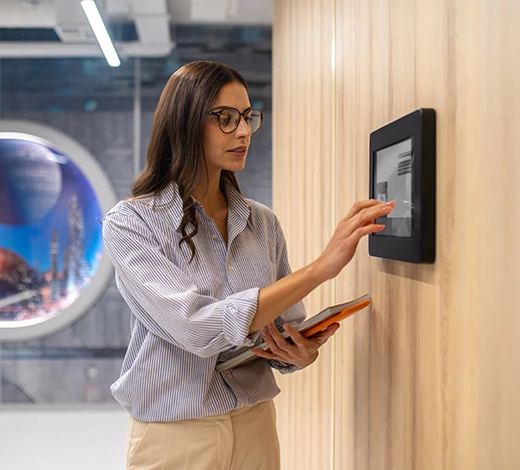 Video intercom systems have a distinct advantage over audio-only intercoms as they allow users to visually identify visitors and interact with them through the intercom unit or a smartphone app. HsforMe offers customizable video intercom systems that include advanced features like color imagery, video memory, and pan, tilt, and zoom capabilities. Furthermore, these modern systems often integrate with apps designed for both iOS and Android devices.
Feature of Intercom Systems

On-Site Assessment

Custom Design

Quality Installation

Maintenance & Repair