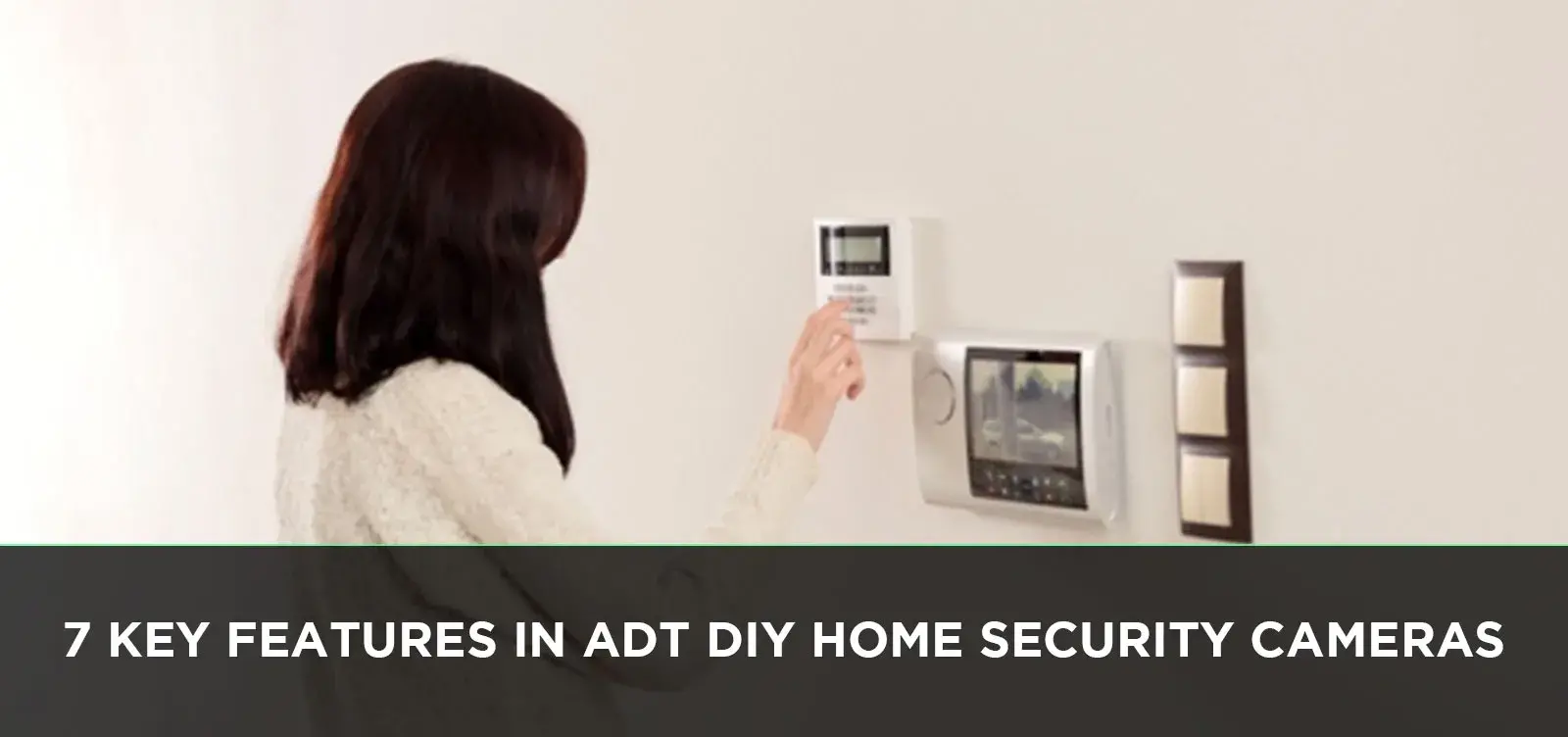 A DIY home security camera is an economical way to set up a surveillance system in your home. It is one of the most basic ways to improve safety for your family, pets, and property. ADT DIY Home Security Camera lineup has seven key features.
Two-way talk and noise cancellation

Night vision

Facial recognition

Custom motion detection zones

Rechargeable batteries

Push notifications to your smart devices
Home security cameras are an excellent investment for your home. They provide you with peace of mind and the ability to monitor things like parking spaces, poolsides, or even small children while out at work all day long!
The benefits when using wireless video surveillance systems will help protect any type of property from break-ins by deterring criminals as well as sounding alarms if intruders try entering through doors which can be sent directly into homeowner's inboxes without them having anything plugged into their computers allowing homeowners much more flexibility during hectic times.
Easy Installation of DIY Home Security Cameras
The leading DIY options, Blue by ADT indoor and outdoor security cameras are easy to install. Installing the camera onto just about any surface is possible with a mounting bracket or even upside down on your ceiling if you forget to flip it the right way up in-app for image quality! The plugin needs power but includes backup batteries so there will be no outage during the installation process.
The Blue by ADT outdoor camera has a battery backup that lasts three to six months, depending on how often it is used. The 16-volt AC power supply for this device comes from either two screws attached with adhesive strips (or nails) into your standard US doorbell wiring electrical outlet box or wall mount bracket which can also support up to 10 pounds per user weight capacity.
The Value of DIY Doorbell Security Cameras
Having a good doorbell camera is not just for security purposes. It also provides convenience in daily living, allowing you to monitor who comes over without having them walk up your lawn or ring the bell!
High-quality video
Night vision
Push notifications with video previews
Noise cancellation for the two-way talk feature
Battery backup if the power goes off
Cloud storage of video files
Fire and carbon monoxide detector
The Blue by ADT doorbell camera ($199.99) lets you monitor your front or back entrance, which is important since it's a common source for break-ins! Unlike some old and grainy security cameras from yesteryear that only provided poor quality videos with resolutions as low as VGA (640 x 480 pixels), this one will provide high-quality clips in HD 1080p resolution along with 180 degrees viewing range to capture whoever has approached our house during darkness conditions without any distortion. It also includes night vision so we can see clear images even when there's little light left on overcast days like today.
DIY Indoor Security Cameras: Customized Detection Zones
The Blue by ADT indoor camera ($199.99) is a high-quality video doorbell that can call on its two-way communication, and face recognition software to help you out in case of an intrusion or when it's dark outside. It also includes push-button alerts which send photos right away so there won't be any mystery about what happened at your home!
The camera also offers:
A 130-degree field of view and a 16.4-foot range
An SD card for local video storage
LED privacy indicator
Alexa integration
DIY Outdoor Security Cameras: Better Night Vision
The Blue by ADT outdoor camera is a great way to keep an eye on your home at all times. It offers nighttime visibility up until 25 feet away, and its 24/7 surveillance capabilities help prevent burglaries from happening while also making sure you know when it's time for delivery or service in order not to miss anything!
Extending Your Wi-Fi Connection for Your DIY Home Security Cameras
The Blue Extender + Chime is an effective way to extend the range of your indoor, outdoor, and doorbell cameras. With this device, you can move your wireless security camera farther away from home without sacrificing coverage on-site or protect more areas with its powerful motion sensor that triggers custom tones for when someone rings their own bell!
Your Choice of DIY Home Security Camera Monitoring Options
The Blue by ADT home security cameras is a cost-effective DIY option with no long-term contracts and one day of cloud storage for videos. But if you want 24/7 professional monitoring like emergency services on speed dial, then it's worth an additional $19.99 per month to receive all that goodness!
The solution includes:
The first month free
Three interconnected and ADT-owned monitoring centers
One-day cloud video storage
Month-to-month payments (no long-term contracts)
Three levels of protection, using Wi-Fi, a cellular signal, and a text message
You can also choose to build your own home security system tailored to your specific needs, which can include:
A base station
Entry keypad
A security yard sign and window stickers
Extra home security cameras
Door sensors
Window sensors
Motion sensors
Fire safety sensors
Glass break sensors
Temperature/flood sensors
Keychain remotes
ADT Security Systems: Home of the Professional
A leader in home security for 145 years, ADT Security Systems has experts who can help you choose easy-to-use equipment and features that work best with your lifestyle. We also offer professional installation services so all components are working properly from day 1! If DIY isn't an option consider hiring our pros; they'll take care to explain how things operate as well as suggest other ways to secure your house - even conduct a full assessment of its current level of protection...
Call on 888-805-5456 & same-day Wireless Door Sensors on your property.
Resources:
The Benefits of Smart Home Security Systems and Cameras
ADT: The Best Commercial-Grade Security System for Your Business
The Benefits of Installing a Professional Business Security Systems